Every summer is a good summer for libraries to educate and entertain, but this is really our year.
Science education in our schools has been abysmal for years, despite call after call to action. Affordable and accessible STEM programming remains a vague hope in most systems and communities.* So this is it, folks, a summer to demonstrate the library's role as a center for creative, meaningful, amazing educational experiences that changes lives. This is our summer to give kids sensory, hands on experiences; to challenge them to ask hard questions and take risks; to problem-solve, research, and evaluate. This is our summer to take the "worksheet blues" out of science education and give them something that blows their minds and makes them want more. Fizz! Boom! Read! is our summer to shine.
This is the summer to bring as many speakers and presenters into your building as possible. As librarians we excel at learning new things, but nothing is going to take the place of a professional who lives and breathes science every day. Of course there are museum curators, forest rangers, engineers, and university professors, but there are also pharmacists, nurses, family doctors, master gardeners, bee keepers, vets, lab assistants, chefs, and mechanics. Even an engineering undergrad home for the summer can probably infuse your normally self-directed lego-club with so much theory, practice, and obsession that kids will never forget it (and what engineer wouldn't want to go play legos for an hour, as if you even need to be nervous about asking). Professionals can get well beyond the surface of those science fair 101 experiments and projects that we'll all be looking up. A professional scientist will ask challenging questions, invite hard questions, tell stories, and they will exude an honest and contagious enthusiasm. Whether they are parents and patrons, neighbors, or representatives from local organizations they will take your programming to another level and give your patrons some serious bang for their time and effort in coming to the library.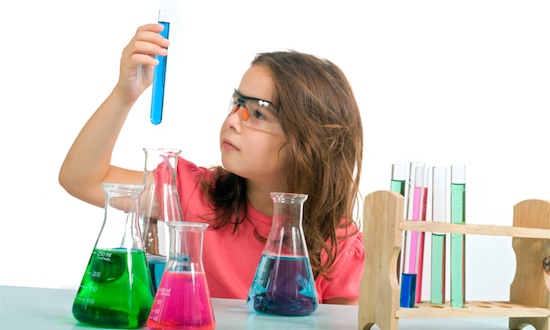 When looking for programs and programmers remember that science has many uses and many personalities. Engage a diverse audience with programming about machines or robots, medicinal plants, animals, bridge-building, art preservation, or cooking just to name a few of the possibilities. Every child should be able to leave your library knowing that science is a part of their interests, and feeling excited about it.
This is the summer to motivate repeat visits. Some science experiments are instant reward and others are make-and-takes, but a lot of them take time and regular observation. From watching crystals or seeds grow, to observing pill bug habits, this is a summer to keep young patrons and their families coming back again and again to "make observations." Perhaps kids/families can record their observations on a public bulletin board chart. Perhaps they can digitally share their observations on a facebook page or blog. Some patrons might even be trusted with weekly jobs or tasks that are important to the project. Part of improving science education is
"

encourag(ing) young people to create and build and invent,

to be makers of things, not just consumers of things"*
T
his is also the perfect summer to encourage collaboration!
Problem -solving and collaboration are the name of the game for science. Some of you will feel comfortable throwing competition into that, too. Describe a crazy hard problem and have a prize for anyone who elaborates a viable solution. Or create a competition. Mobilize your book clubs, advisory councils, or a whole new group to work on the problem and create a solution. Host a face-off (don't forget the refreshments) and get some of those speakers to articulate a judging strategy and name a winner.
And as a parent, please, please, please have your recipe for
galaxy slime
or procedures for e
xtracting DNA from a strawberry
printed out or available on the web for me to look at again when I get home so that we can have fun again and again.
As a parent of a school age child, I am so excited about a summer during which she can potentially learn more science than she will all year in school. I am excited about a summer during which we can learn together as a family, challenge ourselves, and have lots of fun doing it. Happy Summer Reading 2014.
* http://www.nsf.gov/statistics/nsb0602/
* Barack Obama at his 2009 address to the National Academy of Sciences as quoted at http://www.huffingtonpost.com/2011/11/14/us-science-education-reth_n_1093167.html